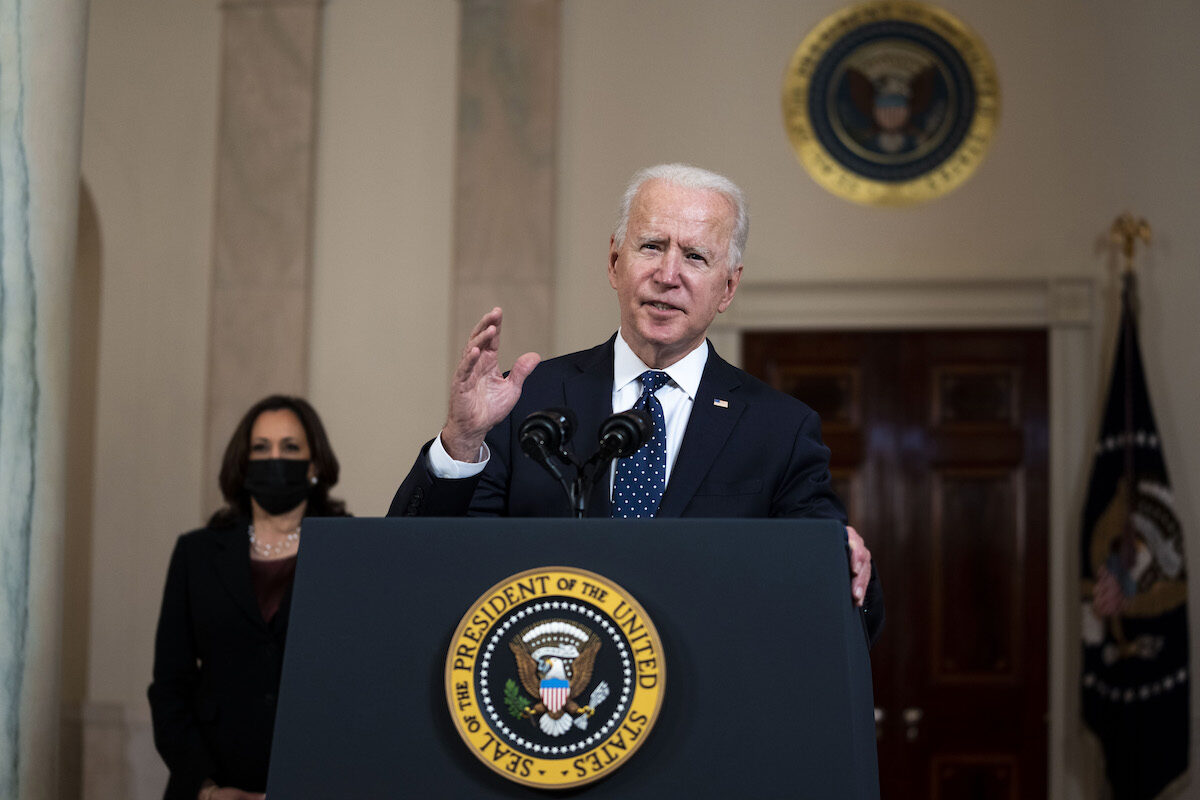 President Joe Biden will travel to the UK and Brussels, Belgium, for his first overseas trip as president, according to a White House announcement on Friday.
In the UK, Biden will attend a summit for the G-7—the intergovernmental organization consisting of Canada, France, Germany, Italy, Japan, the United Kingdom, and the United States—from June 11 to June 13. While in Brussels, the president will attend a NATO summit.
The trips "will highlight his commitment to restoring our alliances, revitalizing the Transatlantic relationship, and working in close cooperation with our allies and multilateral partners to address global challenges and better secure America's interests," said White House press secretary Jen Psaki in a statement.
Biden's attendance at G-7 will "reinforce our commitment to multilateralism" by advancing U.S. policies on climate change, economic recovery, and other topics. While there, Biden will hold meetings with UK Prime Minister Boris Johnson and other G-7 leaders.
Later, Biden and "NATO leaders will discuss how to orient the Alliance to future threats and ensure effective burden sharing," according to Psaki. "The President will also hold bilateral meetings with fellow NATO leaders."
Other than climate change and economic recovery, Biden and NATO will "discuss a common agenda to ensure global health security" and will "address mutual foreign policy concerns."
More specific details about Biden's trip were not provided.
"It's both a practical chance to connect with key allies and partners on shared opportunities and challenges," said Yohannes Abraham, the chief of staff and executive secretary of the White House National Security Council, according to The Associated Press. "But also it's an illustration of something that the president has been clear about that the transatlantic alliance is back, that revitalizing it is a key priority of his, and that the transatlantic relationship is a strong foundation on which our collective security and shared prosperity are built."
President Donald Trump's first trip overseas was when he visited Riyadh, Saudi Arabia, in 2017 and met the kingdom's leadership, including King Salman. Trump was awarded the Collar of Abdulaziz Al Saud by the monarch.
Most recent American presidents have selected North American countries such as Canada or Mexico for their first cross-border trips.
This week, the United States stepped up its travel warnings for much of the world due to the virus. Both the UK and Belgium are listed by the State Department under level four, the highest "do not travel" advisory, and are the subject of specific prohibitions preventing most travel to the United States by noncitizens.
The Associated Press contributed to this report.


View original Post