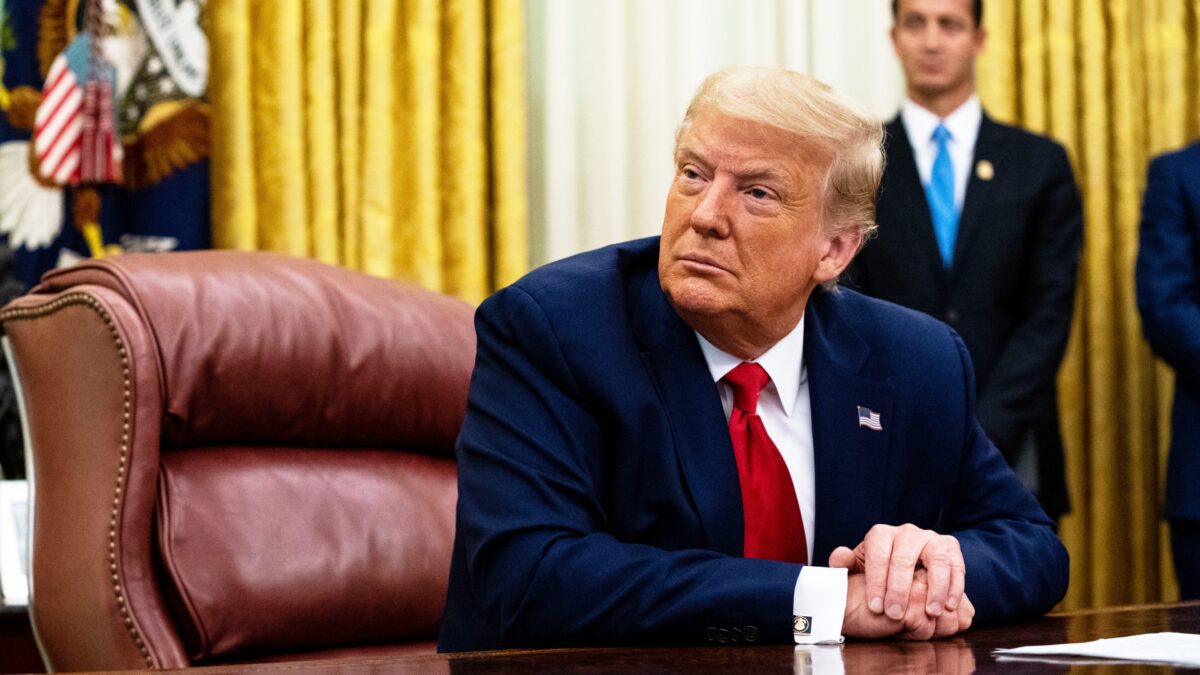 Twitter has suspended an account of unclear origin that seemed nominally affiliated with former President Donald Trump's newly launched communications platform "From the Desk of Donald J. Trump."
Visitors to the account, which has the handle "@DJTDesk," are met with the message "Account suspended." A Twitter spokesperson told The New York Post that it pulled the account because it seemed to be intended either to circumvent Trump's Twitter ban or to promote related content.
"As stated in our ban evasion policy, we'll take enforcement action on accounts whose apparent intent is to replace or promote content affiliated with a suspended account," a spokesperson told the outlet.
Yet sources close to the former president told The New York Post that the @DJTDesk account was not created by anyone on Team Trump.
The Epoch Times has reached out to Twitter with a request for comment on the @DJTDesk account suspension.
The @DJTDesk account came online around the time Trump unveiled a new communications platform, coming several months after he was suspended from Facebook, Twitter, and other platforms. Called "From the Desk of Donald J. Trump," the new platform appears on Trump's personal website and features social-media-like posts from the former president.
Trump's most recent post on the site focuses on the theme of election fraud, while taking aim at the media, Big Tech, and the Democrat Party for what Trump alleges is collusion "to perpetuate the term 'The Big Lie' when speaking of 2020 Presidential Election Fraud."
"They are right in that the 2020 Presidential Election was a Big Lie, but not in the way they mean," Trump wrote. "When they try to sell the American people the term The Big Lie, which they do in unison and coordination, think of it instead as the greatest Fraud in the history of our Country!"
It's not clear whether Trump's new communications platform will be developed into a full-fledged social media website. Currently, it's not possible to create user accounts or reply to Trump's posts, and Trump is the only poster, although visitors can "like" his posts by clicking a heart-shaped icon.
Facebook's oversight board upheld Trump's ban from its platform on Wednesday, prompting a fiery missive on "From the Desk of Donald J. Trump," with the former president saying that what Facebook, Twitter, and Google have done "is a total disgrace and an embarrassment to our Country."
"Free Speech has been taken away from the President of the United States because the Radical Left Lunatics are afraid of the truth, but the truth will come out anyway, bigger and stronger than ever before. The People of our Country will not stand for it! These corrupt social media companies must pay a political price, and must never again be allowed to destroy and decimate our Electoral Process," Trump wrote.
In a statement announcing its decision to extend Trump's Facebook ban, the oversight board said in a statement that, Trump's posts during the Capitol riot severely violated Facebook's rules and encouraged and legitimized violence.
The two posts in question involved Trump, who was president at the time, urging people taking part in the Jan. 6 Capitol breach to "go home now. We have to have peace. We have to have law and order" while maintaining that "this was a fraudulent election."
Facebook Oversight Board Director Thomas Hughes said during an appearance on MSNBC that the suspension of Trump "was necessary to keep people safe."
The board also found that Facebook inappropriately termed the suspension "indefinite."
A Facebook spokesperson declined to answer when it would be announcing the period of time Trump's account will be suspended. In a statement, the company said: "We will now consider the board's decision and determine an action that is clear and proportionate. In the meantime, Mr. Trump's accounts remain suspended."
Since being de-platformed, Trump has relied on sending out emailed statements to issue endorsements and offer criticisms of certain politicians.
In March, a former Trump campaign advisor, Corey Lewandowski, said the former president would launch a social media website in three or four months.
"What we've seen from Big Tech and the cancel culture is if you don't agree with their philosophy, they're going to cancel you, and we're going to have a platform where the president's message of America First is going to be able to be put out to everybody and there'll be an opportunity for other people to weigh in and communicate in a free format without fear of reprisal or being canceled," he said in a Newsmax interview.
The Epoch Times has contacted Trump's Save America PAC for comment.
Jack Phillips and Zachary Stieber contributed to this report.


View original Post