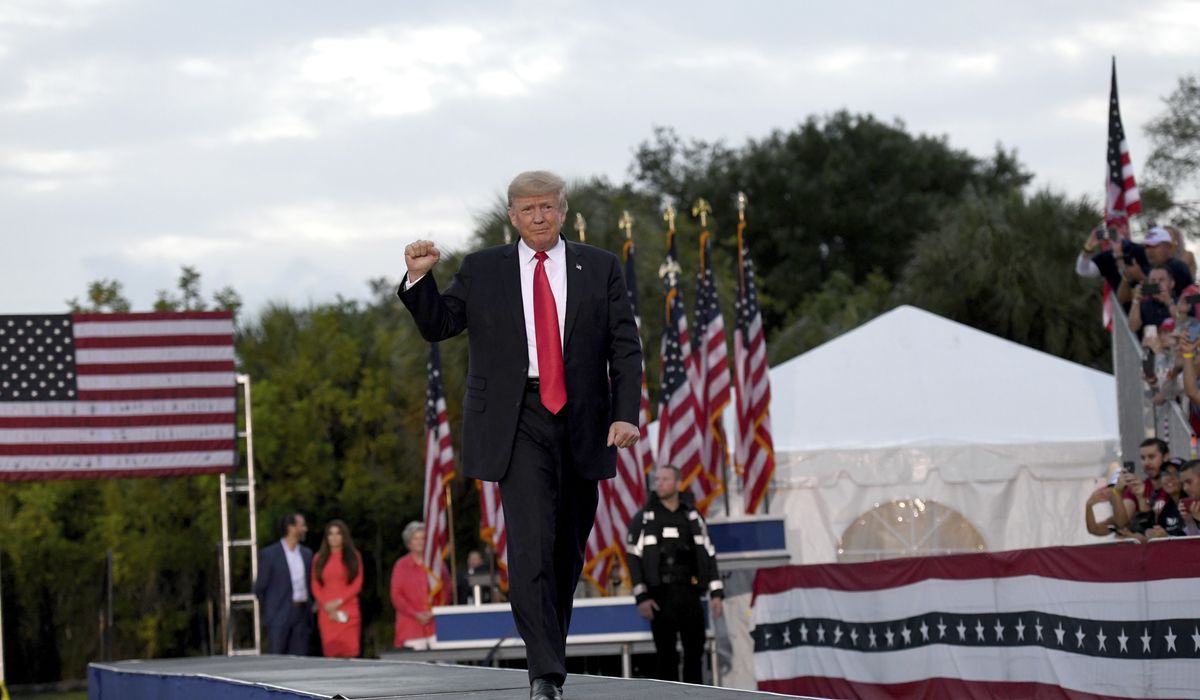 Former President Donald Trump said Wednesday he is suing the leadership of Facebook, Google and Twitter, which have banned him from their social media platforms.
Speaking from Trump National Golf Club in Bedminster, New Jersey, the former president said he wants the federal judiciary to intervene and restore his access to his accounts on those companies' platforms.
"Today in conjunction with the America First Policy Institute, I'm filing as the lead class representative, a major class-action lawsuit against the Big Tech giants including Facebook, Google, and Twitter as well as their CEOs Mark Zuckerberg, Sundar Pichai, and Jack Dorsey," Mr. Trump said. "Three real nice guys. We're asking the U.S. District Court for the Southern District of Florida to order an immediate halt to social media companies' illegal, shameful censorship of the American people and that's exactly what they're doing."
Mr. Trump said he also wants the court to impose punitive damages on the tech platforms and described his class-action litigation as the first of numerous other lawsuits that could follow.
"In the end, I am confident that we will achieve a historic victory for American freedom and, at the same time, freedom of speech," he said.
The former president also argued that the companies had been "co-opted, coerced, and weaponized by government" to become the enforcers of illegal censorship.
Google and Twitter declined to comment. Facebook did not immediately respond to request for comment.
Twitter has implemented a permanent ban against Mr. Trump's account, Facebook has said its ban will last until at least 2023 and Google-owned YouTube has restricted Mr. Trump's access.
The tech companies booted Mr. Trump from their platforms in the aftermath of the riot at the U.S. Capitol on Jan. 6.
Mr. Trump's effort is being supported by the America First Policy Institute, a conservative think tank formed earlier this year to make Mr. Trump's policy agenda the guide for Republicans in Washington and policymakers nationwide to follow.
Former White House domestic policy council director Brooke Rollins leads the institute and said earlier this year it had plans for offices in Florida, New York City and Texas and had 40 staffers working in Washington.
"President Trump often remarked that if Big Tech is out to get him, it's because they're out to get the American people — and he was just standing in the way. The actions of the Big Tech firms we're taking to court illustrate the point perfectly," Ms. Rollins said in a statement. "What they've done, what they've wrought in the past few years staggers the imagination. All Americans need Donald Trump to win — not for what it will mean for him, but for what it will mean for every American man, woman, and child."
Mr. Trump has recently taken other steps to chart his digital return and his supporters are creating alternatives to prominent tech platforms like Facebook and Twitter as well. In June, he joined Rumble, a video platform rivaling YouTube, and his supporters have boosted GETTR as a social network alternative to platforms such as Twitter.




View original Post