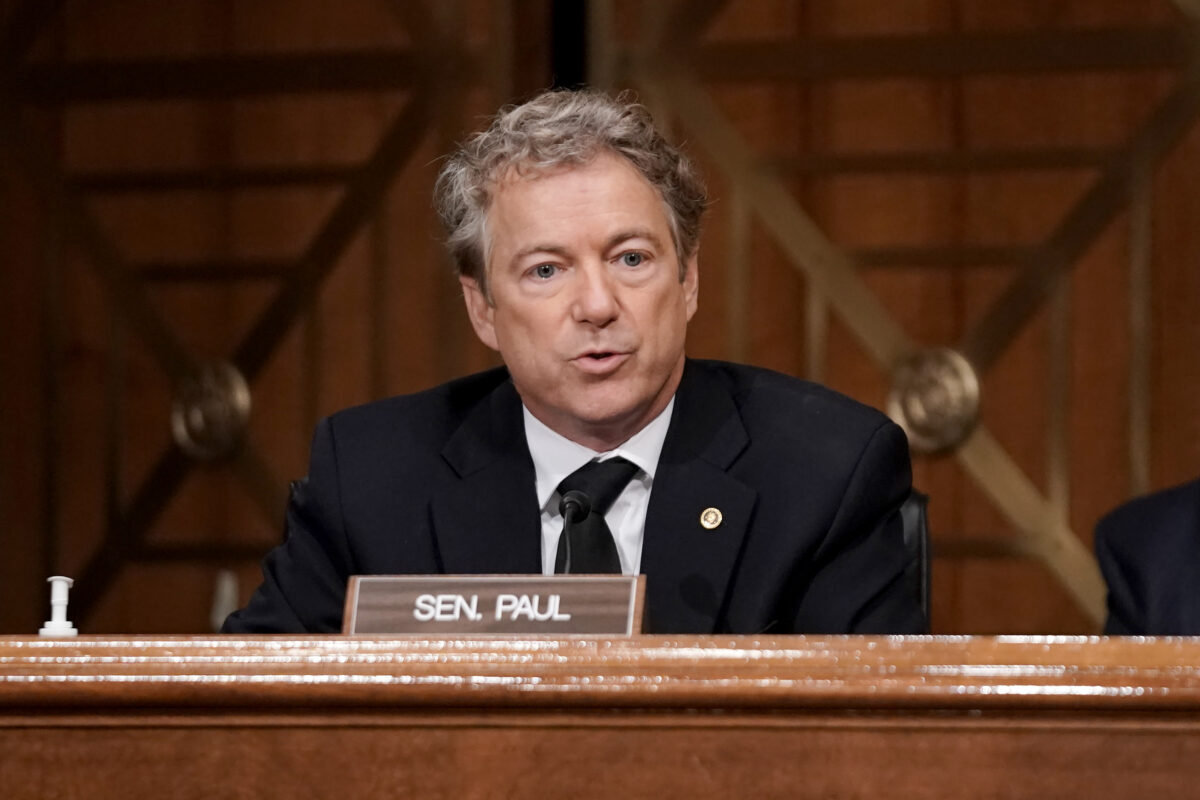 Sen. Rand Paul (R-Ky.) said he will re-introduce legislation that bars the public transportation mask mandates on airplanes that were implemented earlier this year by the federal government.
"When the Senate returns to session, I will be introducing an immediate repeal of the mask mandate on planes. Enough! Time to stop this farce and let people travel in peace!" he wrote last week on Twitter.
On his second day in office, President Joe Biden signed an executive order requiring masks on all public transportation, including inside airports and on airplanes.
His order directed several federal agencies to "immediately take action, to the extent appropriate and consistent with applicable law, to require masks to be worn in compliance with" the Centers for Disease Control and Prevention (CDC) on airplanes, trains, buses, ferries, and other forms of public transportation.
That mandate has been left intact even after the CDC in April issued guidance saying fully vaccinated people don't have to wear face masks indoors.
The Transportation Security Administration (TSA), an agency within the Department of Homeland Security, announced it would continue its mask mandate until at least into September. Fines are doled out for people who don't comply.
Meanwhile, the Federal Aviation Administration (FAA) has handed out fines totaling more than $682,000 in 2021 alone, said the agency earlier this month. Those fines appear to stem from passengers who won't wear masks.
"Since Jan. 1, 2021, the FAA has received approximately 3,271 reports of unruly behavior by passengers, including about 2,475 reports of passengers refusing to comply with the federal facemask mandate," the agency wrote in a statement. "We have identified potential violations in 540 cases and have initiated enforcement action in 83 cases."
But in recent months, there have been studies suggesting that mask-wearing can be detrimental to one's health, namely among children.
A paper from JAMA published in late June found there are "consequences of elevated carbon dioxide levels in kids and hypercapnia from inhaled air from the dead space a mask creates," said Johns Hopkins professor Marty Malarky on Twitter on July 1. "This is why I was so fired up by the CDC guidance for kids to wear masks outside."
The study, published in late June, citing data from 25,930 children in Germany, found that 68 of participating children had issues when wearing nose and mouth coverings.
"Most of the complaints reported by children can be understood as consequences of elevated carbon dioxide levels in inhaled air," it found. "This is because of the dead-space volume of the masks, which collects exhaled carbon dioxide quickly after a short time. This carbon dioxide mixes with fresh air and elevates the carbon dioxide content of inhaled air under the mask, and this was more pronounced in this study for younger children."
And Paul, during a recent interview, has argued that mask mandates—namely in schools—are not based on scientific data, coming after the CDC issued new guidance saying children who are not vaccinated should continue to wear masks when school starts in the fall.
"It's about submission," he told Fox News. "There's never been any evidence of spreading events in the schools. The kids do very well with this. The idea that we're going to put masks on the kids, and then we're going to punish the kids who, for their own medical decision-making or their parents, decide not to submit to this mandate."
Paul described the CDC's latest guidance around schools as "basically advertisement and encouragement to get out of the government schools" and send children to private schools or opt to homeschool them.
"But don't submit to the state, don't submit to the government," he added.




View original Post