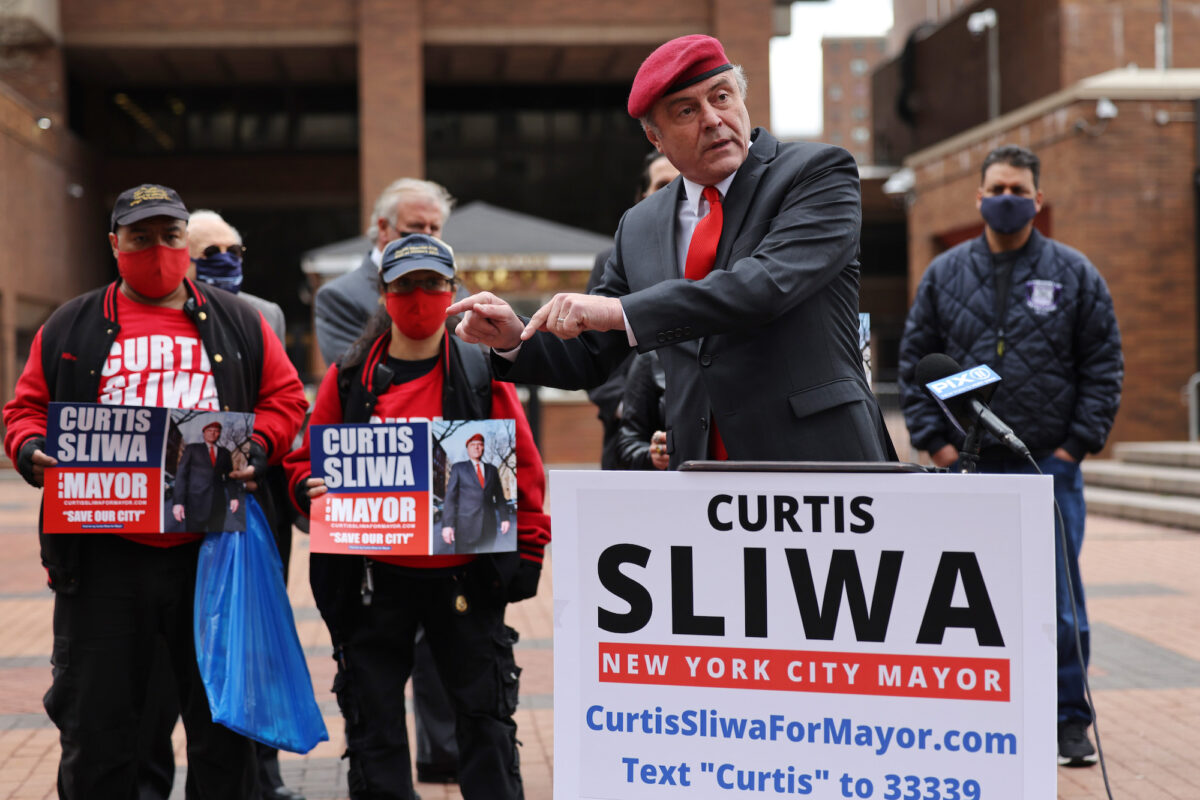 Curtis Sliwa, a Republican candidate for New York City mayor, was on Wednesday morning set to complete a 24-hours straight subway ride after challenging Democrats to join him on the journey in a bid to draw attention to his tough-on-crime policy posture.
"It's like Dante's Inferno," Sliwa told The Epoch Times in an emailed statement on Wednesday, shortly before concluding the ride, when asked to recap his experience.
"When you spend more than four hours in the subway, you feel like you need to take a shower because the odors are so strong and attack your nasal senses," he said. "Some of the homeless and emotionally disturbed people use the subway as a moving hotel," he said, adding that uniformed police assigned to the platforms were "very noticeable" but he did not see any police patrolling inside of the moving trains.
Sliwa, who founded the Guardian Angels volunteer unarmed crime prevention group, issued the challenge on Tuesday, calling on Democrat mayoral candidates to accompany him on New York City's number 4 train, which he dubbed the "Slasher's Express" after two attackers last week punched, slashed, and robbed multiple victims on the train.
"Hey, Democrats! Wanna be mayor? Gotta ride the subway," Sliwa said in a video on Twitter, in which he held up a pair of hockey masks and said, "I know some of you are afraid of getting slashed—I brought masks for you to protect you from getting slashed."
The field of New York City mayoral candidates is crowded ahead of the June 22 primary, which will be followed by a general election on Nov. 2. On the Democrat side, it includes failed presidential candidate Andrew Yang, former Civilian Complaint Review Board chairwoman Maya Wiley, and former Manhattan borough president Scott Stringer.
Sliwa called out all three—and several others—by name as he invited them on a ride-along on the "Slasher's Express."
"Come on, you can do it," Sliwa said. "I do it all the time, the only candidate who rides the subway. Come ride with me, I'll protect you."
Around 6 hours after starting the ride, Sliwa posted a video in which he pointed to blood-soaked steps at Union Square station and said that a man had been slashed there shortly before he arrived.
"This station, Union Square, has become the 'Slasher's Delight,'" he said, adding, "the slashings must stop. We need more cops."
"When I am mayor, you're not going to have this," he added.
Yet another slashing just took place in the subways right before I arrived at this station

I've been out since 10:30am and still have many hours to go on my #24HourSubwayRide

How many more slashings will I witness on the #subways? pic.twitter.com/xyvD7uWE7y

— Curtis Sliwa for NYC Mayor (@CurtisSliwa) May 18, 2021
Sliwa told the Epoch Times that none of the mayoral candidates had taken up the challenge.
His campaign has been focused on law and order, public safety, and quality of life. In a recent interview with CBS, Sliwa said calls by some to defund the police have depleted morale.
"Their morale is at an all-time low," Sliwa said, adding that he plans to visit every precinct in New York City to express his support for law enforcement.
"I'll let them know I got your backs, go out, do what you were trained to do. Make these streets safe, the subway safe, the parks safe," he told the outlet.




View original Post