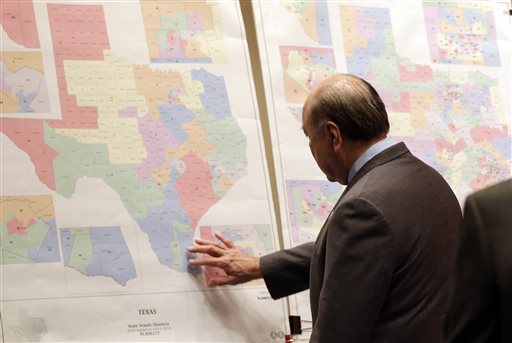 The Democrat Congressional Campaign Committee (DCCC) revealed that will target 22 districts for the 2022 midterm elections in their effort to keep their majority in the U.S. House of Representatives.
Democrats will be safeguarding a slim majority with 220 members against 211 Republicans and 4 vacancies, and are preparing to defend their lead going into the 2022 redistricting cycle, in which states redraw the boundaries for both their congressional and state legislative districts according to the 2020 Census data that is to be published.
The decennial redistricting process, delayed due to COVID-19, may give the House GOP an edge this round, as population increases change the number of districts in each state and many Democrat states lost people during pandemic lockdowns to Republican-led states. There is also the added historic trend for Democrats that has seen party in the White House lose seats during House mid-term elections.
Normally, apportionment data is released at the end of the census year. But for the 2020 Census, it went from late December 2020 to late April 2021, and the release of redistricting data has now been moved to mid-to-late August.
Each state has its own rules for redistricting, but close to half of all states will need to speed up their process for drawing new congressional or state legislative maps.
According to the National Conference of State Legislatures (NCSL), the redistricting process in many states will need to be compressed because of one of three reasons; these states may hold state legislative elections in 2021 and must have newly drawn maps for that, they may have some sort of constitutional or statutory deadline for 2021 that requires them to have new maps drawn, or they have deadlines based on the census that could be interpreted as requiring them to redistrict by the end of 2021.
Democrats' strategy to keep their majority is to tout the legislative successes of the American Rescue Plan that the GOP opposed. Democrats are highlighting its government subsidies for families, like the $1,400 stimulus checks and child tax credits.
"Every single Republican on this list voted against putting checks in pockets and shots in arms, and we're going to make sure voters in their district know it," Rep. Sean Patrick Maloney (D-N.Y.), chair of the DCCC, said while praising the $1.9 trillion coronavirus relief package passed in March.
"The DCCC is prepared to protect our majority by recruiting compelling candidates and empowering their campaigns with the resources they need to draw the contrast between Democrats' record of fighting for the middle class and Republicans' toxic brand of defending conspiratorial insurrectionists and opposing direct relief for working families," Maloney added.
In a June 23 interview with MSNBC, Maloney said that the DCCC has moved a huge number of resources into early community organizing in key districts. "We're not just going to get back on the ground after the pandemic, we're going to build that back better," he said.
"We're going to be in communities with cultural competence with local people working who are trained to do so.
He also reiterated the Democrats' push to get trillions more in legislation passed, like their broad infrastructure package, and their message to voters that Democrats are "delivering on things like this infrastructure package, on things like ending the pandemic … [and] bringing resources to local police departments."
The districts on the Democrats' target list include seats that House Democrats lost in the 2020 elections in California, southern Florida, Iowa, New York, and Utah.
Meanwhile, the National Republican Congressional Committee (NRCC), announced its list in February, naming 47 districts that the GOP is targeting for the 2022 elections.
The NRCC's strategy to regain the House majority in 2022 is by showing voters how crime and violence have gone up under Biden, how illegal immigrants are flooding into the nation, how spending and inflation are up, and public schools are indoctrinating students with the quasi-Marxist critical race theory.
"We will relentlessly hold House Democrats accountable for their socialist agenda and ensure voters understand the damaging impact policies like defunding the police, government-run health care, and ending the Keystone XL Pipeline will have on Americans' everyday lives," NRCC Chairman Tom Emmer said in a press statement in February.


View original Post