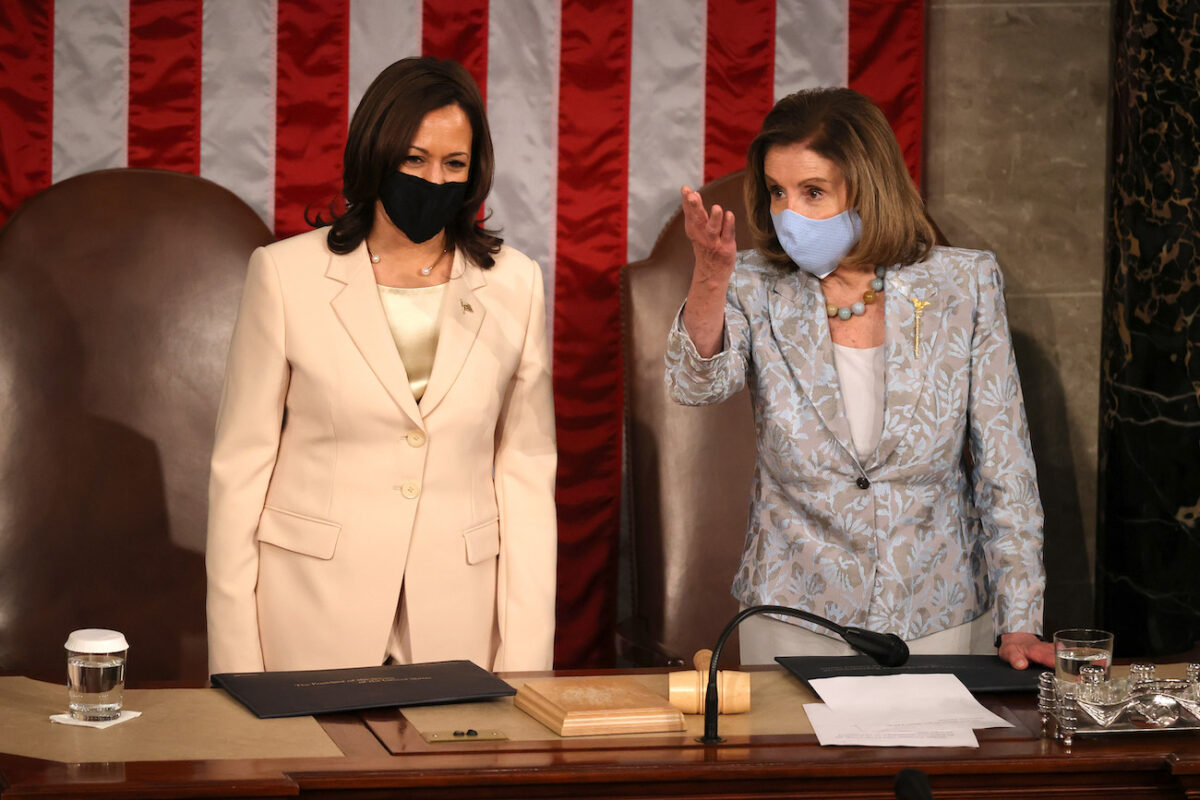 House Speaker Nancy Pelosi (D-Calif.) said that she believes Democrats will hold the majority in the House after the 2022 midterm elections, saying that her confidence stems from recent census results.
According to the Census Bureau, Texas gained two seats in the House, while Colorado, Florida, Montana, North Carolina, and Oregon gained one seat. Meanwhile, California, Illinois, Michigan, New York, Ohio, Pennsylvania, and West Virginia lost one seat each.
"Elections are always a contest, and you see what happens in them," Pelosi told CBS News on Thursday. "But I feel very confident that the Democrats will hold the majority after the next election. I think that we're—for all the huffing and puffing the Republicans are doing, these numbers were not as good for them as they had hoped. They wanted three in Texas, two in Florida, and the rest."
Pelosi added that "much of the growth in many of these places that picked up more numbers, more—more members in Congress, the growth was from Hispanics, African-Americans and the rest, so we'll see where those votes go."
Typically, the party of the president loses seats during midterm elections. Democrats were able to reclaim the House majority in 2018, coming two years after former President Donald Trump's 2016 victory.
At the same time, Pelosi has an extremely thin majority, leading the slimmest one since World War I. The House is currently split at 218 Democrats to 212 Republicans with five vacancies, meaning Pelosi can only lose two—but not any more—Democratic votes to pass legislation, and if there is a tie, the bill fails.
"But this is right now," Pelosi told CBS. "The best politics of all is to get the job done for the American people, the blueprint that was put forth by the president last night to meet the needs of the American people. That's what we're about. We're not worrying about who's going to be speaker two years from now."
In mid-April, Pelosi's majority shrunk after Rep. Julia Letlow (R-La.) was sworn into office. And so far, three Democrats have left the House of Representatives to join the Biden administration, including presidential adviser Cedric Richmond, Housing and Urban Development (HUD) Secretary Marcia Fudge, and Interior Secretary Deb Haaland.
Earlier this month, longtime Rep. Alcee Hastings (D-Fla.) died after a battle with cancer, and there is one vacant seat for Republicans after Rep. Ron Wright died in February.
Top Democrats in the House have expressed optimism that they can push through their favored bills.
"Frankly, we're doing OK as Democrats as you look at this quarter," House Majority Leader Steny Hoyer (D-Md.) said in March about their slim majority.


View original Post