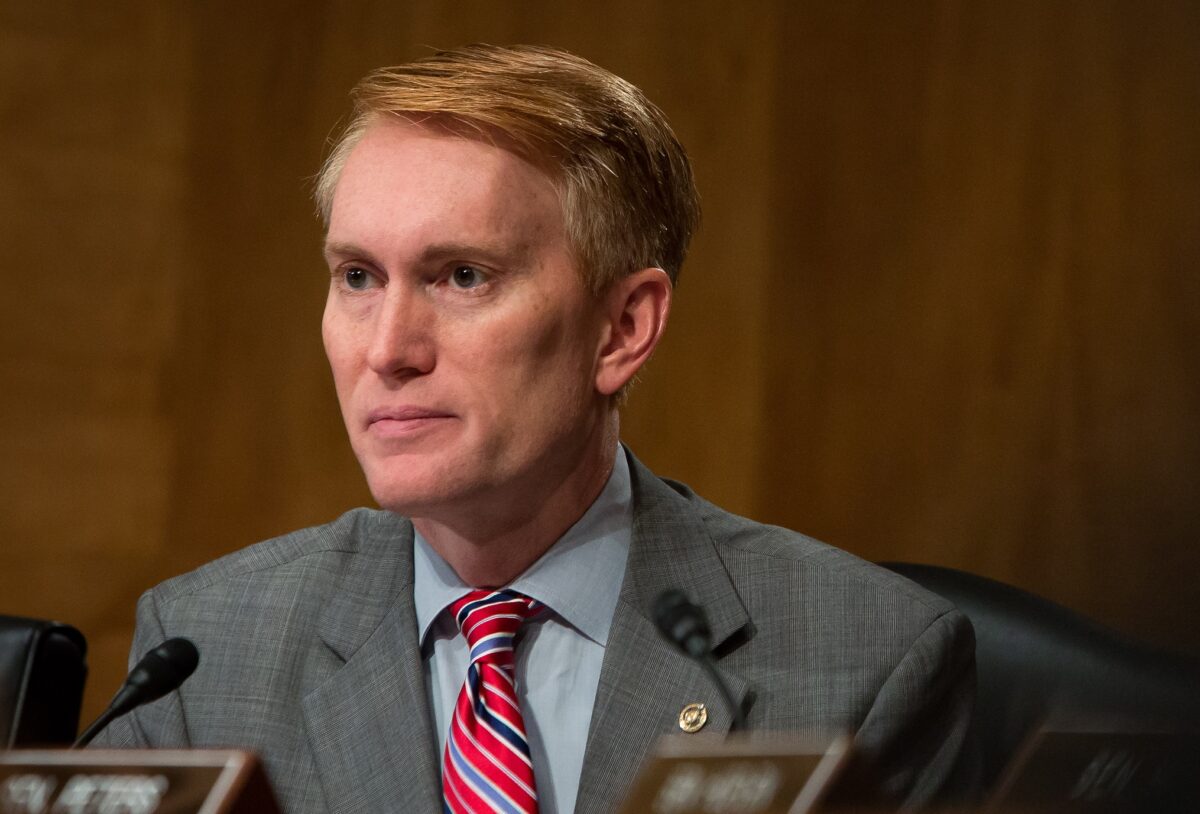 Sen. James Lankford (R-Okla.) said the Oklahoma Republican Party chair's support of his primary opponent is atypical and that most state party leaders remain neutral in regards to primary races.
"It's more unheard of than it is rare. I'd say it's highly unusual for a state party chair in any state in America to come out and say, 'I'm not going to at least be neutral,'" Lankford told the Tulsa World this week.
"Obviously the state party makes their own decisions on what they want to be able to do. But every state party chairman I've ever talked to has … at a minimum—it's always just remain neutral," he added. "That's the nature of every leader of every party, by the way, Republican or Democrat."
Oklahoma GOP Chairman John Bennett last month said he was backing Jackson Lahmeyer, a pastor who has described Lankford as a "RINO," or Republican in name only.
"The good ol' boy politics days are over," Bennett told The Oklahoman. "I'm here for one reason, one reason only and that is to do the job that the people elected me to do—and that is to stand and fight for our constitutional republic and to get rid of those that refuse to do it."
Bennett and his representatives have said that his support for Lahmeyer is in a personal capacity, not in his role as the state party head.
Lahmeyer on Facebook on Tuesday expressed appreciation for Bennett's endorsement.
"If John Bennett would have put aside his courage & integrity and decided to endorse James Lankford then none of the establishment swamp creatures throughout OK would have said a negative thing. Thankfully John Bennett is a man of great character!" he wrote.
Former state Sen. Ron Sharp told the Tulsa World that Bennett's backing of Lahmeyer could swing some votes.
"You can't say you're not supporting him 'as party chairman,' because you are the party chairman," Sharp said.
Both Bennett and Lahmeyer, 29, took issue with how Lankford, 53, in his first term, said he planned to object to Arizona's electoral votes on Jan. 6 but ultimately did not.
Lankford originally said on the Senate floor that there were "thousands of pages of evidence," suggesting problems with the vote count, and asked for the process to be paused as a commission worked to "get more facts" about what happened.
But after crowds stormed the U.S. Capitol, interrupting the joint session of Congress on Jan. 6 for hours and, in some cases, sparking violent clashes between rioters and law enforcement, Lankford denounced those who breached the building and did not register an objection. "Obviously, the commission that we have asked for is not going to happen at this point," he added.
Lankford later apologized to black Tulsa residents for his intention to object.
Also this week, the Logan County Republican Party endorsed Lahmeyer over Lankford.
Whoever wins the primary will likely go on to win the general election. Political handicapping websites rate the race as solid Republican. Lankford won a special election in 2014 with nearly 68 percent of the vote. Two years later, he drew about the same percentage in a regular election.


View original Post