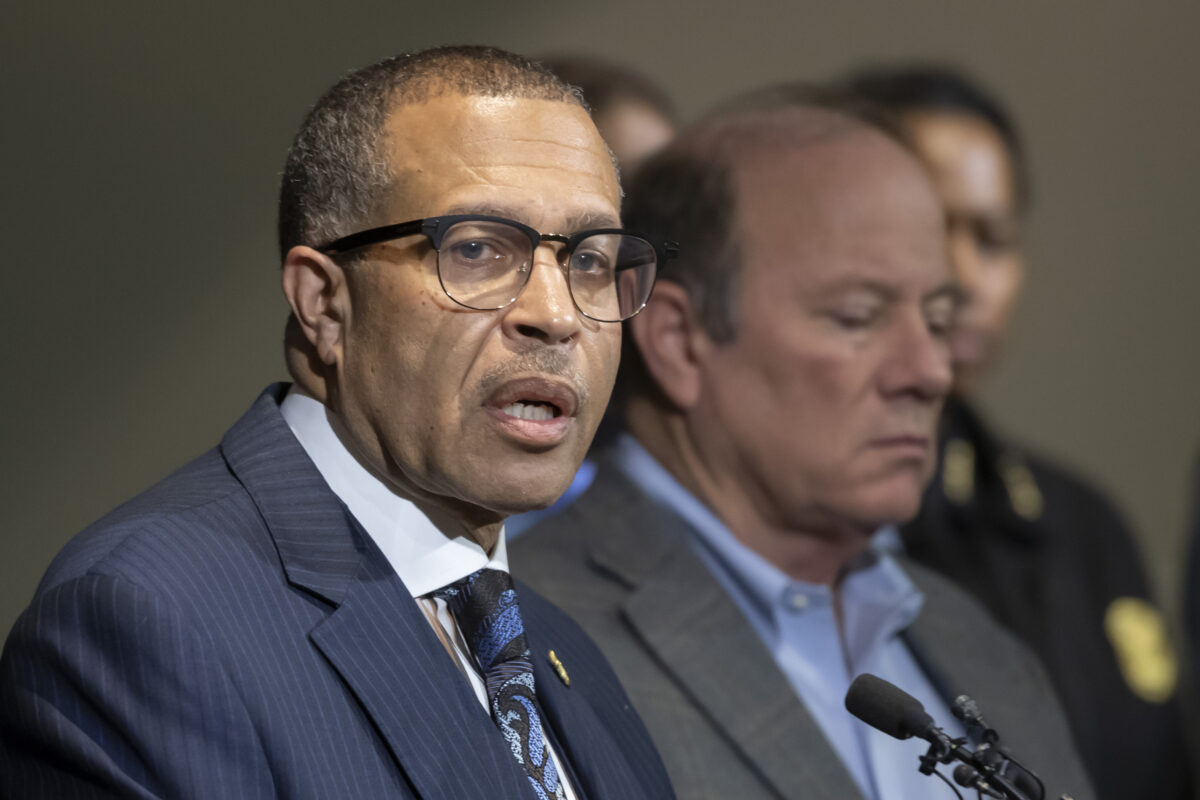 Detroit's police chief on Monday said he was retiring and is considering challenging Gov. Gretchen Whitmer in 2022.
Police Chief James Craig, a Republican, said he will be stepping down on June 1. He described the decision as voluntary.
"We saw what happened to many chiefs across this country. Some were forced out. Some retire because they didn't feel supported. And some were fired. So I'm leaving in a good place. I love this city. And I love this state," he told a press conference, thanking Mayor Mike Duggan, a Democrat, and other officials for supporting him.
Duggan praised Craig, who he said "brought professionalism to the department."
Duggan is hiring a firm to conduct a search and provide him with a list of candidates to become the next chief.
Craig became police chief in Detroit in 2013. He has headed departments in Portland, Maine, and Cincinnati, and worked for the Los Angeles Police Department.
Craig said Detroit showed how to react correctly to riots and protests that erupted in the wake of George Floyd's May 2020 death.
"We didn't retreat. The city did not burn. And we're a model for the country," he said, crediting law enforcement and community members.
Craig has been receiving lots of questions about a possible gubernatorial run.
"I have gotten countless calls, text messages, Facebook shots, emails from people across his great state, Democrats and Republicans, who say they want me to seek office," Craig said.
"I have not made that decision. I'm not ruling it out. There's an appropriate time. I will get past this and then I will come out with a decision. So I am not ruling it out. I am deeply passionate for public service but not just public service, but in a leadership role, deeply passionate about it," he added.
Whitmer, a Democrat, entered office in January 2019. She is in her first term. She beat Bill Schuette, a Republican who was the state's attorney general while running.
Rick Snyder was governor of Michigan from 2011 to 2019. He is a Republican.
The list of governors of the state going back decades includes both Democrats and Republicans.
Whitmer has received pushback from the GOP for the harsh measures she imposed to try to curb the spread of the CCP (Chinese Communist Party) virus during the COVID-19 pandemic. Over a dozen recall efforts have been launched against Whitmer, but none have so far garnered enough signatures.
Whitmer has not yet announced she will run again.
A handful of candidates have declared for the 2022 race, including Garret Soldano, a businessman, and Ralph Rebandt, a pastor.


View original Post