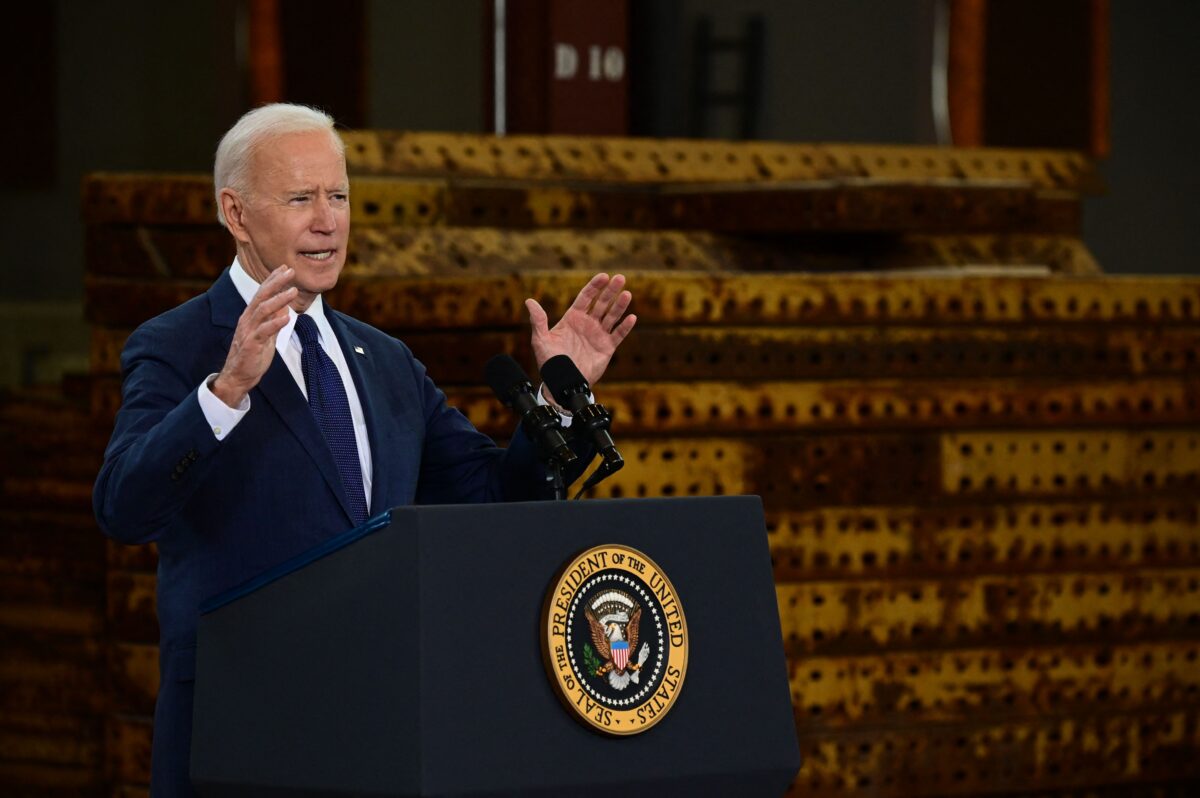 WASHINGTON—President Joe Biden is calling on Congress to approve more than $4 trillion in infrastructure and social welfare packages as part of his "Build Back Better" agenda. While his ambitious plans aim to spur economic and jobs growth, analysts predict the proposed spending and tax hikes would shrink the U.S. economy in the long term.
On March 31, Biden announced the American Jobs Plan, his $2.3 trillion infrastructure proposal that dedicates the majority of spending on progressive priorities such as climate change. He described his proposal as "the largest American jobs investment since World War II" in a speech in Pittsburgh on the day of the announcement.
His spending plan, which includes significant tax increases on corporations, is unlikely to gain bipartisan support on Capitol Hill. Republicans earlier labeled the infrastructure plan a "Trojan horse" for progressive priorities and deficit spending rather than addressing systemic issues with roads and bridges.
The University of Pennsylvania's Penn Wharton budget model projected that Biden's infrastructure plan would spend $2.7 trillion over the next 10 years. This amount is $400 billion more than announced by the White House as it includes clean energy tax credits not listed in the administration's original announcement.
According to the Penn Wharton model, the spending and tax provisions of the plan would end up decreasing gross domestic product (GDP) by 0.8 percent by 2050.
While the proposal's business tax hikes decrease government debt over the long term, it would "discourage business investment and thus reduce GDP," according to a report by Penn Wharton analysts.
Biden proposes substantial tax increases on U.S. corporations to pay for his ambitious spending package. It aims to raise the corporate tax rate to 28 percent from the current rate of 21 percent, a level that would put it above global peers and potentially reduce U.S. competitiveness.
The American Families Plan, which is the second component of Biden's Build Back Better agenda, consists of about $1 trillion in investments and $800 billion in tax cuts and credits for families and workers, according to the White House. The new spending proposal focuses on expanding the welfare state by providing access to good education, affordable childcare, and more. Childcare support receives the most funds under the plan.
Biden proposes to increase taxes on high-income households to pay for this spending.
Penn Wharton analysts projected that the plan would actually spend $2.5 trillion over the next 10 years, about $700 billion more than the administration has announced.
The plan "would increase government debt by almost 5 percent and decrease GDP by 0.4 percent" by 2050, the analysts wrote in the report.
This analysis is contrary to what Moody's has projected earlier. Moody's touted Biden's spending packages, saying that they would make the U.S. economy's growth prospects "brighter" in the long term.
The Build Back Better plan "would increase the economy's long-run growth by increasing productivity growth, labor force participation, and hours worked," Mark Zandi, chief economist of Moody's Analytics wrote in a report.
Zandi who advised progressive Sen. Elizabeth Warren (D-Mass.) during her presidential campaign also pushed back against the concerns that higher tax rates would shrink the economic growth.
He claimed there's "little evidence" that President Trump's tax cuts signed into law in 2017 meaningfully boosted business investments.
"If the tax cuts did not lift economic growth, it is tough to argue that increasing them will appreciably hurt growth," he wrote.
According to Moody's, Biden's proposals would increase tax revenues by $3.5 trillion, about half of which would comes from increased taxes on corporations and the other half on high-income and wealthy individuals.
This week Republicans are expected to unveil a new counter-proposal to Biden's  $2.3 trillion infrastructure plan. Last month, Senate Republicans led by Sen. Shelley Moore Capito (R-W.Va.) proposed a $568 billion infrastructure package, which Democrats criticized as inadequate.
The White House indicated that it would move forward with its own spending plans if no bipartisan deal can be reached. The two parties remain far apart on the priorities and how to pay for them.
"A lot of the big of domestic political decisions of the last generation have all been enacted with zero or near zero support from the opposition party," according to Nick Eberstadt, political economist at the American Enterprise Institute, a conservative think tank.
"Policies that are rammed through by one political party, without any support from the other, remain in jeopardy," he told The Epoch Times.
"If one wishes to have a policy with durability and resilience, it's much better, if possible, to find a bipartisan basis of support."


View original Post